---
Dear Fiber Shopper –
Please be advised that all my wool and blend fibers are shipped to you with aromatic sachet materials (Lavendar, Cedar, Patchouli – it's a nice blend) to repel moths as you plan your project or add to your stash 😉
If you have a sensitivity to aromatic items please let me know when you place your order so I can pack your wool with no sachet included
---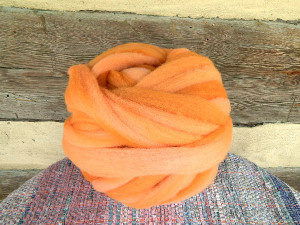 This bundle of roving reminds me of a Creamsicle
– looks good enough to eat! Great big bundle of sunny medium-fine wool roving, a variety of shades of sunny gold, peach, butterscotch with just a hint of cheerful pink.
Weight: 9.5 ounces.
---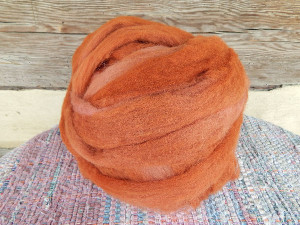 A lively fresh roving run dyed in earthy tones
– imagine cinnamon and sandalwood. Varying hues of copper and rust blended with shades of rose over rust!
Weight: 8 ounces.
---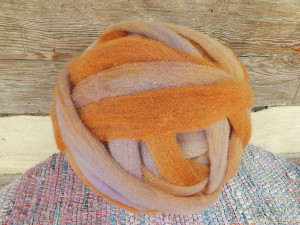 One of my most popular colorways
– woodsy copper and a true lilac blend, perfect for yarn or felting  Nice size in this roving!
Weight: 8 ounces.
---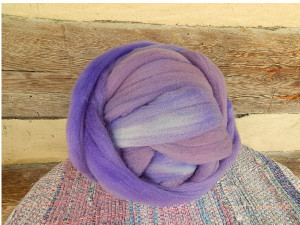 If you want a beautiful and easy roving,
– you can't beat this one.  Took a few ounces with me to spin at the Gaithersburg Rabbit Show last w8kend, it's a pure delight.  It was hard to put up for sale…. Great big 8 ounce ball of happy shades of violet to palest lilac!
Weight: 8 ounces.
---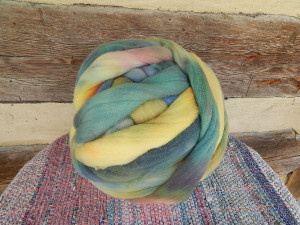 This is a great big ball of wonderful colors!
-I've been having so much fun dyeing the wonderful Superfine Merino fibers recently.  Shades of greens run into sunny yellows and the occasional pinch of pings, vibrant reddish oranges too! Enormous ball of very fine Merino combed top here – Very Prime fiber!
Weight: 20 ounces.